Guided walks Tour.
Two types of guided tours:
Set schedule tours: along the season, we organize several guided tour with different levels of difficulty. They're perfect for single travelers, couples and small group of friends.
Custom made tours: if you're beyond 4 participants and would rather stay amongst yourselves and not be mixed with a group of strangers, we can easily set something up upon request. Give us your dates, how long you wish to stay for, the areas you want to explore, the level of difficulty, the type of accommodations you're looking for, and we will cook something up for you!

This formula is not just for those who lack experience or might have a bit of trouble with orientation, it's mainly so you can enjoy the expertise, knowledge and company of a professional hiking guide. From the minute you meet with us until the last day of the tour, we will handle the organization and logistic. While your leader, aside from showing you the way, will take care of transfers and luggage transportation.
Guided walks are Couleur Corse's number One activity.
It was our main specialty when we set up our business, it is our best selling product, but most of all, it is Number One in our hearts. We're Happy and Proud, to be able to show you, every step of the way, how crazy we are about our Island and its mountains.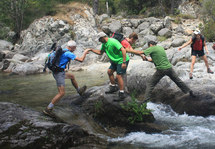 Couleur Corse has the chance to be able to choose who we work with. You'll be surprised (and pleased) to find out a lot of tour leaders are actually women. They are mainly our friends, hence we share the same ideas on how to handle your tours. They won't turn 'Napoléon' on you and make you follow them blindly as they will lead the way in an imperial manner. They enjoy hanging out with the rest of the group, chat about whatever you'd like, get acquainted and figure out who you are.
They are so familiar with the all the different paths, that it allows them to anticipate and handle things with utter respect for security and each participant's boundaries. For instance, whenever possible, they will let the toughies get ahead of the group after agreeing on a meeting point: the next pass or a cross roads.
When things will get more challenging and technical, they will lead the way and help the ones in need.
Your tour guide will take you outside of the usual circuits, break the routine and will surprise you with climbing toward a summit or a picnic by the side of a secret natural water pool.
Finally, he will pull out royal treats from his magic trunks for lunch breaks: locally produced cold cuts, tapenade (black olives dip mixed with several herbs), hearty mixed salads, corsican goat cheese, fresh fruits, etc.
If bad surprises arise (storms, physical injuries), you can trust he will take the best decisions to handle the situation perfectly.
To sum it up, your Guide will be the reliable and efficient tour Conductor!