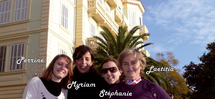 A local travel agency:
Originating from the island, we put all one's effort and knowledge of the mountains to offer you the best stay.

A human size travel agency:
We have chosen not to work with major travel agencies or tour operators so we can devote to our customers, provide personal contact, privileged to listen to everyone's expectations. Our size also allows us to be very responsive, with great organizational flexibility both in the office and field.

Diversity of services:
- tailor-made stays
- a wide variety of activities
- we can book for you optional extra: hotels, car rental, ...
- book and issue flight or ferry tickets to reach the island
We are accredited to airlines companies (IATA) and sea companies to book and issue your tickets.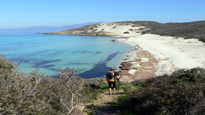 Our competences:
Our agency was born 20 years ago, so we have gained experience and reinforced friendship with mountain workers.
The polyvalence of Couleur Corse members also confirm the careful of our stay (mountain guide, high mountain guide, climbing guide, ...).

The environment:
If nature is our playground, it is also our livehood. Our main concern is to protect nature by limiting our impact on the environment to the maximum. We want to come up to our customers expectations; which are sensitive to the environment. Our daily acts are the result of a conscious decision and a deep awareness towards these issues. We do not pretend to be perfect or flawless but we do the best we can.

Quality services:
We are particularly careful in selecting our partners even if we do not have total control of all partners, and especially the accommodation. The mountain guides we work with are all friends of us. There is no many mountains guides in Corsica, and they work regularly with us and share our concern for quality.
They live in Corsica and know nature, but also History, customs and topicality. They will take you off the way marked paths, on their "secrets spots" to enjoy a casual picnic along a secluded basin.
Our picnics are made with local quality products, and we take great care in their choice.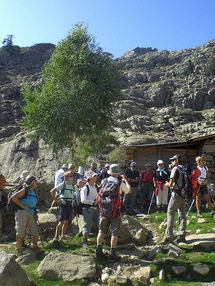 Small groups:
We limit the size of our groups to guarantee a pleasant atmosphere, a best security and privileged contact with our mountain guide.

Tailor-made tours:
We build, organize and guide the tours we propose. We know perfectly each hidden of the island and we built with you the program you dream of, so you can discover all the richness of Corsica.

Who is it for ?
The notion of group is not fixed with Couleur Corse: we build tailor-made tours for 2 persons (minimum), a family, a band of friends, an hiking club, a travel agency, an enterprise, ...

When ?
Depending on the weather, we are able to hold services throughout the year.

Where?
Our business covers the whole island: we take advantage of the natural aspects that Corsican nature offers us, with a contrast sea-mountain, to imagine varied tours bringing to discover many facets of "l'île de Beauté".

Level ?
Our tours are made for non specialists. There are accessible to everyone: from the novice who wants to become initiated, to the practicing people.

How ?
You have to fill in the registration form in our website, or contact us by e-mail.

Our guarantee:
We have the legal guarantees and the insurances needed for our activity:
Registration at "Registre des Opérateurs de Voyages et de Séjours": IM02A .100010
Financial guarantees: APS for an amount of 100 000 €
Professional liability: MMA Cabinet Piquet-Gauthier BP27 - 69300 OULLINS
We have the IATA accreditation to book and issue flights tickets.