Self-Guided tours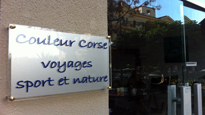 If you are planning a trip with your wife/husband or with a couple of friends, and you are not really keen on using a mountain guide's services, these are just the type of holidays for you! You are free to do as you want and hike at your own pace. We will take care of all logistic details: accommodations and meals bookings, luggage transfer, ...
We will give you a complete and detailed road book to help you all along your journey.

Most of the time, the tours we propose are set on way marked trails. When it won't be the case, you will find cairns along the way and paths are impossible to miss. The information you will find on your road book are updated regularly.
Nevertheless, Corsican's nature is wild and untamed; and some of the paths you will cross are secluded. The self guided tour is made for experienced, self reliable hikers.
You have to:
- be familiar with and use orientation material: maps, compass, altimeter,
- bring all equipment necessary for hiking,
- know all the basic rules that go with the territory: check the weather forecast and your equipment regularly, know how to find and gather useful information,
- be able to face unpredictable issues: storms, accidents, misunderstanding due to the road book information,
- be trained in first aid in case of emergencies
Pros and cons of self guided tours

Pros:
- self guided hikes are perfect for those who would rather avoid the company of other hikers,
- you won't have to worry about organizing everything yourself,
- you will walk with a lightened rucksack because Couleur Corse will take care of your main luggage transfer daily,
- you have absolute freedom and control over how to handle your pace and schedule

Cons:
- you will not be able to enjoy the services and experience of a professional local mountain guide. We have chosen our staff amongst our friends. We share the same work and quality ethics. Living on the island, they are familiar with its nature, History, customs, legends and current affairs. They often share their secrets spots and shortcuts towards a lake or hidden basins.
- in case of an emergency (bad weather, injuries) you must rely on yourself to make the good decisions and handle the situation right.

Discover our self-guided tours

Guided tours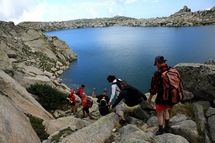 From mid May to late September, Couleur Corse schedules several guided tours each week. Even though other participants will be mainly French-speaking, a great amount of them have a decent English level. We have also noticed an increasing number of foreign hikers, willing and eager to improve or practice their French as they are in immersion into the local culture. Our guide are professionals with a state certified license: mountain guide or high mountain guide. Some of them speak English fairly, and we will choose them to guide you in priority.
All our mountain guides are locals guides and they talk about Corsica with their hearts. Living on the island, they are familiar with its nature, History, customs, legends and current affairs.
They will surprise you and take you off the way marked paths; on to their secrets spots, to enjoy a casual picnic along a secluded basin. Those picnics are carefully set up by our services, made with quality local products.
The number of participants on the groups is limited, so we can guaranty you a convivial atmosphere, top security and a privileged relationship with your mountain guide.
Two types of guided tours :

- Pre-programmed tours: along the season, we organize several guided tour with different levels of difficulty. There are perfect for single travelers, couples and small group of friends.

- Tailor-made tours: if you are beyond 4 participants and would rather stay amongst yourselves and not be mixed with a group of strangers, we can easily set something up. Give us your dates, how long you wish to stay, the areas you want to explore, the level of difficulty, the type of accommodation you are looking for; and we will elaborate a program for you!
This formula is not just for those who lack experience or might have a bit of trouble with orientation, it is mainly so you can enjoy the expertise and knowledge of a professional mountain guide. Once you meet us until the last day of the tour, we will handle the organization and logistic.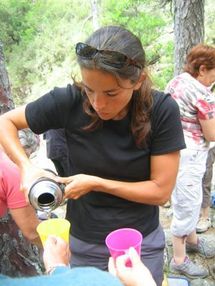 Guided tours are Couleur Corse's number one activity :

It was our main specialty when we set up our business, it is our best selling product, but most of all: it is number one in our heart. We are happy and proud to be able to show you, every step of the way, how mad we are about our island and its mountains.

Couleur Corse has the chance to be able to choose who working with. You will be surprised (and pleased) to find out a lot of guides are actually women! They are mainly our friends because we share the same ideas on how to handle the tours. They won't turn "Napoleon" on you and make you follow them blindly as they will lead the way in an imperial manner. They enjoy hanging out with the rest of the group, chat about whatever you would like, get acquainted and figure out who you are.
They are so familiar with all the different paths, that it allows them to anticipate and handle things with utter respect for security and each participant's boundaries. For instance, whenever possible, they will let the toughs get ahead of the group after agreeing on a meeting point: the next pass or a cross roads.
When things will get more challenging and technical, they will lead the way and help the ones in need.
Your mountain guide will take you outside of the usual paths, break the routine and will surprise you with climbing toward a summit or a picnic by the side of a secret natural basin.
Finally, he will pull out royal treats from his magic trunks for lunch breaks: locally produced cold cuts, tapenade (black olives dip mixed with several herbs), hearty mixed salads, Corsican goat cheese, fresh fruits, etc...
If bad surprises arise (storms, physical injuries), you can make sure he will take the best decisions to handle the situation perfectly.


Discover our guided tours

Tailor-made tours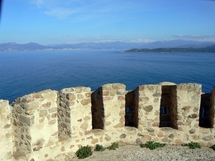 What you want, whenever you want it. The tour you have been dreaming of!
We create, organize, and guide the tours we propose by ourselves. We know very well every single spot of the island and we will work along with you, to come up with the proposal that will suit you the best. This way, you have the guarantee to fully enjoy all the treasures of the area you will choose to explore.

Who are they for?
It is up to you. We will propose you an idea (or two) according to your demands, wherever you travel alone or with the whole family, for couples, groups of friends, sports clubs, a travel agency, for business, etc...Let your imagination lead the way.

What kind of activities?
Aside hiking, there are a lot of activities to try and discover with Couleur Corse. How about canyoning, rock climbing, sporty mountain biking or kayaking? You have many choices!

What about the guides?
Two of our staff members speak fluent English. We guarantee it will either be one or the other. As personal friend, they work with us on regular basis and share our values and ambitions regarding quality. As they live here in the island, they are familiar with its nature, its History, customs, legends and current affairs. They will surprise you and take you off the way marked paths, on to their secrets spots to enjoy a casual picnic along a secluded water basin.

When can you come?
Depending of course on the weather forecasts, we are able to propose you a choice of holidays throughout the whole year.

Where can you go?
We cover the whole island. We run all natural sides that Corsica has to offer. For instance: it is a unique mountain to sea contrast. We come up with a whole range of tours and activities that will let you explore all of the "'Ile de Beauté" treasures.

What can we propose you?
The tours you can see in our brochure are samples of what we can propose you. If you already have a project, just let us know and we will work together.

How trained do I have to be?
The hikings we propose are for everyone. Accessible, there are as for beginners with a desire to be initiated to these type of activities, as for nature 's lovers who wants to explore the island, and as for heavy duty walkers (be careful: some trails - for instance the GR20 - are for knowledgeable and highly trained hikers).

How can I get in touch?
You have to fill in the registration form on our website. You can also contact us by e-mail or give us a call. After that, we could start working together on your project.